Patients come into the hospital with many fears. For many, the fear of losing control of bowel and bladder function can be of great embarrassment. Many patients who lack control of their bodily functions may feel like they are a burden to the staff. And then again, others may not. Every patient is different and every patient has fears that should be addressed on an individual basis. However, some protocols are universal.
I am of the camp that says, out of courtesy for the patient, we should pretend we can't smell it. No if's, ands or
butts
about it. No matter how bad the stool smells, we need to just go on our normal business while the patient takes care of theirs. Above all, no matter what, at all times, show respect. This
hospital ecard
explains the right way to handle poop smell in the hospital.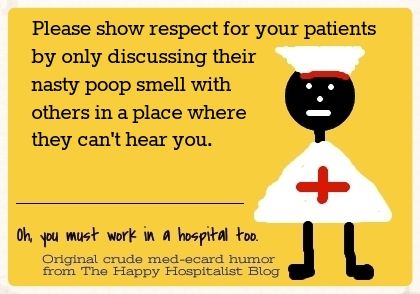 This post is for entertainment purposes only and likely contains humor only understood by those in a healthcare profession. Read at your own risk.