Pain is the 5th vital sign. Questions about patients' perception of how well their pain was controlled in the emergency department or hospital are part of patient satisfaction surveys that determine whether hospitals get paid or not. Some hospitals will use the
AIDET method
to try and get patients to forget about how painful their ruptured appendix really was and how it took the overworked nurse two hours to get them their shot of morphine. However, other hospitals have taken a new approach and have begun using modified pain scales and scores to try and accurately predict real pain from drug seeking pain. An accurate allergy assessment is vital to understanding how their pain should be interpreted. This is where the allergy to pain score ratio comes in handy. The more allergies a patient has, the less likely the pain should be interpreted at physiological significant. If doctors want to accurately assess their patients' pain, they must include an accurate allergy assessment, as this
ER ecard
rule suggests:
Alternatively, some emergency departments have started implementing meaningful pain scales that actually represent the truth according to reality.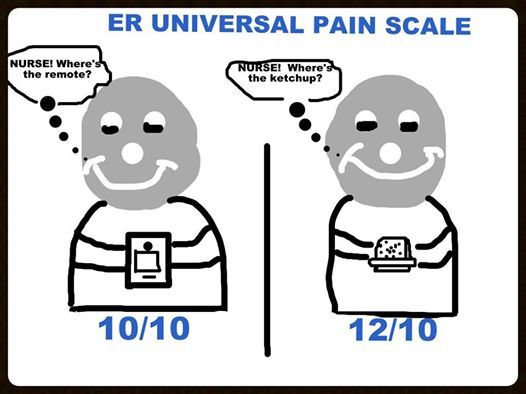 Facebook humor:
Patient: are you going to write me a prescription for pain medication for my back Pain?
Happy: Tylenol is over the counter.
Patient. I need something stronger than that.
Happy: Take two of them.
This post is for entertainment purposes only and likely contains humor only understood by those in a healthcare profession. Read at your own risk.