Shift change in a hospital is a dangerous time. Nurses are leaving their 12 hour shifts as new nurses are arriving to take over all the necessary patient care. However, try transferring a patient from the ER to the floor at the end of a long and grueling shift and you're likely going to get an assortment of reasons from the floor nurse about why the patient can't transfer. The room isn't clean. We don't have staffing yet. The nurse is at lunch. The nurse is busy. We don't want to. You name it, there's a reason why floor nurses will never accept a patient at shift change. But why? Why are floor nurses so good at blocking admissions at that magic shift change hour? I think it's a survival technique handed down through generations of floor nursing leadership. This
nursing ecard
helps explain their attitude about this very important patient safety issue.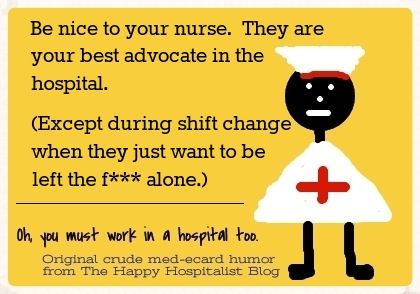 Here's a picture I took for an old caption contest of mine. One of my favorite responses? "I think the ER nurse left me in here!"
This post is for entertainment purposes only and likely contains humor only understood by those in a healthcare profession. Read at your own risk.