Are you thinking about getting medical insurance for overseas travel? Even though you may not feel like you need it, after reading this story, you might consider going out and buying your own personal medical policy for foreign travel. Medicare does not cover you for overseas travel and many private insurance companies may have restrictions as well. You can, however, buy a private plan for single stays, extended stays or multiple stays in a year. If you are of Medicare age, you can even purchase a Medicare supplement plan (premiums often run $100-$200) to help alleviate some overseas emergency medical costs, but they have their own deductibles, copays, exclusions and often have a maximum benefits rider built in as well. Take the example of my father's recent fall and injury while
visiting Egypt
. They did not have an overseas medical supplemental policy.
Hi guys, dad tripped on the top step of our apartment entry way when we got home and went sprawling face down on the marble floor. I could see blood under his face and thought his nose was broken. I called his name loudly several times and the boab/doorman came out. Someone helped dad get up on a chair (he is too heavy for me to lift) and there was profuse blood coming from a large, deep cut above his left eyebrow and the side of his nose. It was a skin flap, movable and about 1/4 inch deep.

We tried to stop the bleeding with a lot of tissue and finally it was decided (3-4 men had come running to help) he needed to go to the hospital. I knew he needed stitches and they agreed. So the boab got a cab and we wound our way to the hospital here in Maadi. His glasses had caused the cut when his head hit the floor, but the glasses weren't broken, only bent. His head hit so hard I was afraid he had a concussion. The glasses have some serious scraped scratches and the bows are bent.

At the hospital, which was packed with an assortment of people lined up on both sides of all the corridors they took Dad right away to have him stitched up. First, it was money upfront. The total for the ER room visit, tetanus shot and meds cost about $30.00--all up front and cash before getting treatment. I was so glad the boab was there to do all this for me. While the room was very basic and not too clean, all the instruments came out of a package and he wore new rubber gloves. I couldn't see him do the stitches, so we can hope the scar will be minimal, but we will see.

Dad seemed OK, but we were to watch for signs of a concussion. His head hit the floor so very hard. Then he had a tetanus shot. They did an allergy test first, giving him a bit and waiting 15 minutes to check the reaction. We had planned on getting booster shots before we left, but never got to it. They put a bandage around his head for 12 hours to stabilize the stitches so he looked like a casuality of the revolution! He will go back to have the stitches removed before we leave. We are aware of what to watch for in the next 12 hours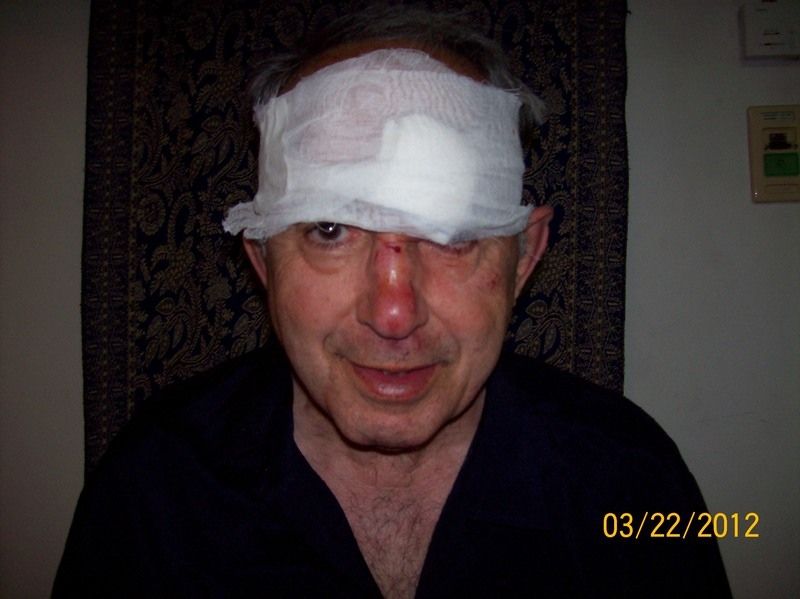 Only thirty dollars for a visit to the ER, stitches and a tetanus shot. It looks like America spends 95% of their health care dollars on amenities and complying with government regulations and 5% on actual health care. I have to wonder how much of that $30 went to the hospital and how much of that went to the ED doctor. I have to wonder what their documentation looked to. I doubt they spent twenty minutes entering information into their EMR system, verifying all their bullet points on their
E&M notes
, complying with PQRS criteria and signing off their doctor chart with a legible doctor signature after the RN read back, in triplicate, the verbal order that was given at the bedside.
Nope, I imagine the guy did a fine job stitching together the laceration and sent dad on his way for $30 and a memory to last a lifetime, or at least until he forgets about it.
If they had simply dropped $100 for a single visit overseas emergency medical insurance policy, they could have received a free CT scan of the head, a smack panel of labs, stat telemedicine consults from the ophthalmologist, neurologist, neurosurgeon, physiatrist and ENT doctors and it wouldn't have cost them a dime. Hallelujah. Praise insurance mandates for all. It's too bad Egypt doesn't have government regulations that force people to buy their own health insurance. They could have had all this for free. But no, they were sent on their way with just some stitches and a tetanus shot for $30. I hope he survives. If it was me, I would feel so cheated.