Marty
, our white Italian greyhound is still on prednisone for his
autimmune pemphigus
. We tried to wean him off and his skin lesions came back, so now we are in a holding pattern. It's amazing how much weight a little Iggy can pack on in such a short amount of time from being on prednisone. His belly appears rounded and his thorax full. I hope we can get him off the prednisone soon and perhaps try a disease modifying agent in place of the prednison. He seems to be struggling a bit with his mobility.
We don't feed our Italian greyhounds people food, but that never stopped them from begging. Here's Marty begging for food from Mrs Happy as she eats a delicious frozen fruit treat. It's not one of those deep fried foods on a stick you'll find at the State Fair. These things are actually quite natural. And Marty is a dog of opportunity. So is Cooper, our other Iggy, but in a different way. He's less shark like in his efforts. For both of them however, if we aren't paying attention, they'll go in for the food kill, They have a ferocious appetite for food and drink, especially a Marty on prednisone. I just can't even imagine what they're thinking in these pictures and videos below. I hope you get a smile from this contenst showing our Iggy's and our son
Zachary.
They're too funny.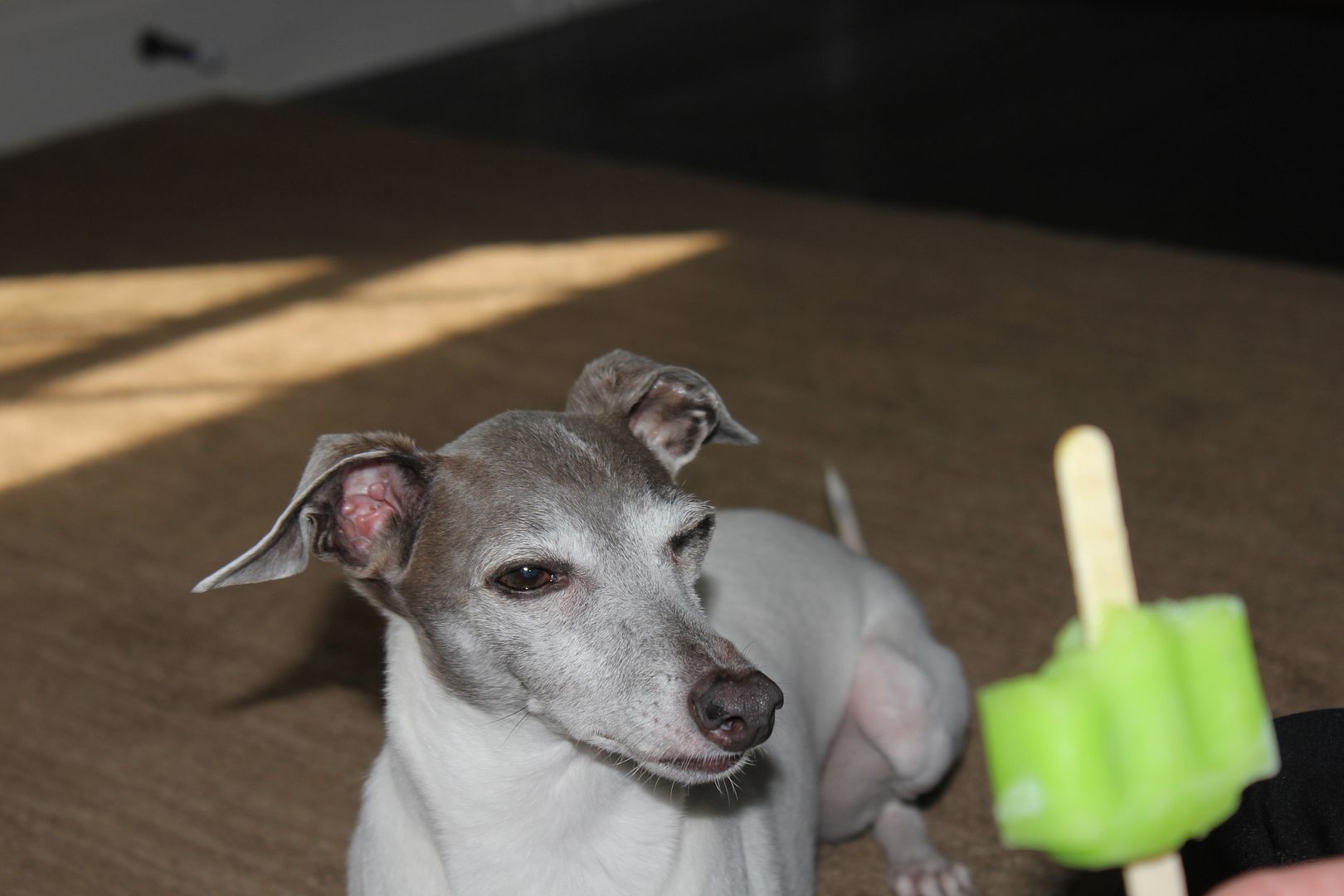 Here's 17 month old Zachary being a hard worker. We decided to give him his first chores: feed his puppies Marty and Cooper. It went just as we expected it to. That's OK with our pups though. They do the same thing!
Our Italian greyhounds also love peanut butter. We
never
almost never feed them people food. However, that all changed with the arrival of our son Zachary. Baby Zachary is now the source of lot's of extra food scraps. Whether it's food he drops, food they steal from his hands, food that falls or gets thrown from the tray or food inside his highchair, Marty and Cooper have hit the people food jackpot! Marty loves ice cream too. Whenever I'm dishing it up, Marty (the white one) knows when I'm doing it and comes to stand right at the base of the counter to wait for me to drop a little piece of ice cream on the floor while I'm scooping it. Sometimes he gets lucky. We used to feed them Science Diet, but they seem to like the Iams better. We also give them
breakfast
every morning. We dish up a tiny bowl (a restaurant salsa size bowl) of their dried dog food with a little water in it. Then we sprinkle a 1/2 a teaspoon of dried kelp on top of each that we get off Amazon. Marty loves it, as you can tell by his growing back fat. Cooper still occasionally has feeding issues, but given enough time, he'll eat. What do you feed your dogs? Here's the cute video of our puppies eating peanut butter off the knife!