Here's the latest in my Xtranormal medical videos. This one is
Hospitalist vs ICU End of Life Palliative Care Consult
. It's a peek behind the curtains of ICU care in America when dying patients are forced to live at the hands of overly aggressive doctors, Xtranormal hyperbole style. You can find all my original medical videos at
this link
.
Some are Happy originals. Some aren't. I think they're all funny.
I beg all patients to take the time to discuss these important issues with your family, your doctor and the rest of your health care team before you end up like that ICU patient above. On the flip side, you don't want to end up with a DNR just because you don't remember, as these original Happy
palliative care ecards
help to explain. Communication is vital.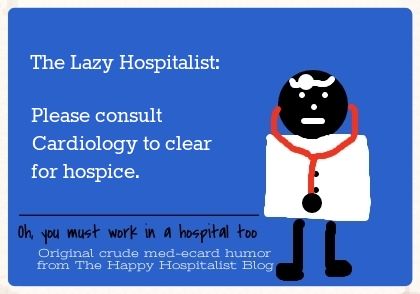 Facebook WIN!
:
Woman
: Dr Happy. I know you don't remember me, but I remember you. You took care of my father five years ago this month when he died in the emergency room. I can't thank you enough for what you did. I will always remember you. Thank you so much for everything you did. You will always be remembered.
Happy
: I appreciate that. Thank you very much
Nurse
: That's going to make me cry.
Happy to nurse
. How 'bout that. I'm usually getting yelled at instead.
Hospitalist WIN!
This post is for entertainment purposes only and likely contains humor only understood by those in a healthcare profession. Read at your own risk.