It's amazing what a little breeding will do to the animal kingdom. I took this picture of a standing miniature horse at the local county fair last year. What a waste of a good miniature horse. He's just standing there. I've got better plans for this thing. Hospital pony rides. Miniature horses may be the next big thing in hospital based physical therapy. What better way to get grandma going again after her hip fracture than to saddle her up on the back of a miniature horse and make the horse run. If she falls, it's not like she'll break her hip. It's already broken. It's time to put some fun and excitement back into the monotony of physical therapy.
If you want, you can even put some
tie dye
horse ankle support braces on to spice things up and to prevent from having to care for a miniature horse with a broken or sprained ankle. You just want to make sure grandma doesn't have some weird allergy to horses. If she does, horse penicillin isn't going to save her. She'll need to see her rheumatologist for acute exacerbation of her systemic fibromyallergia after she tells you she's allergic to prednisone and diet products too. Now that I think about it, perhaps sending grandma home with her own miniature horse could perhaps be the key to preventing 30 day readmissions for Medicare patients. Sometimes thinking outside the box opens up a whole new opportunity for our patients. Forget follow up with a nurse practitioner. Just send granny home with her own miniature horse.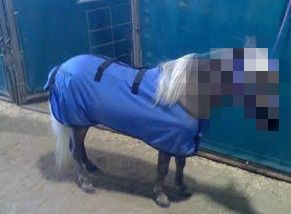 After too much horsing around in his younger years,
Shorty asked that I keep his identity secret to avoid
paying child support.