Thanks to all the nurses on all the floors for their kind Happy Doctor's Day thoughts on this March 30th day of celebration! The winner for my unannounced best Happy's Happy Doctor's day sign goes to the cardiac floor for this creative poster. And a thank you to all the other floors for all the wonderful chocolates and snacks that were placed wide open in the nurses station, filled with all the life threatening and disgusting biological fluids that placed my life at great harm (at least according to the folks at OSHA who have lost all sense of reality). I guess that means the
coffee police
have officially disbanded and the
hospital rules
for no food or drink at nurses station no longer apply. Hallelujah! Now
that's
a reason to celebrate Doctor's Day for 2011!
Most nurses will probably thank the doctors they work with. Some will not, as this
medical ecard
helps to explain: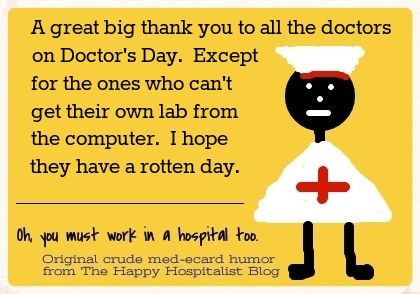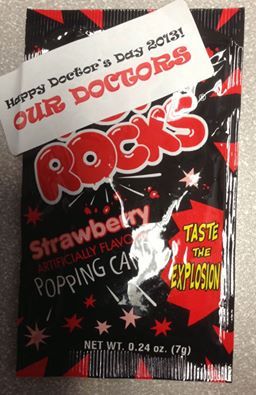 This post is for entertainment purposes only and likely contains humor only understood by those in a healthcare profession. Read at your own risk.