Happy's medical practice is 100% clinical. We do some teaching of medical students and residents, but all in all, we do little, if any, clinical based research. So it came as a shock to me when I found out one of my partners was doing his own independent clinical research study. What he found was the discovery of the perfect clinical
diagnostic tool
for "How To Diagnosis Fibromyalgia":
A sensitivity of 100%: If you have fibromyalgia this sign will be positive
A specificity of 100%: If you don't have fibromylagia this sign will be negative
A positive predictive value of 100%: If you have this sign, you will have fibromylagia
A negative predictive value of 100%: If you don't have this sign, you will not have fibromylagia
Nothing in medicine comes with such a remarkable track record. What is this remarkable sign?
Having four or more drug allergies.
These original Happy Hospitalist
fibromyalgia crude medical ecards
below help explain. I believe the pain of fibromyalgia is real.The FDA has even approved medication to treat it. What I can't explain is the physiology behind the muscle pain as it relates to the systemic rejection of ones body to multiple medications across multiple different class effects. If you want to know if your patient has fibromyalgia, don't waste your time with a trigger point exam. Just take their allergy history.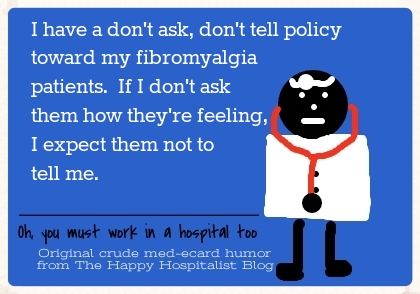 This post is for entertainment purposes only and likely contains humor only understood by those in a healthcare profession. I wouldn't wish fibro pain on anyone.