My doctor sent me in for intravenous antibiotics. I also see my wound care doctor twice a week. Happy: What does your wound care doctor do for you? Patient: He puts lotion on my legs. This is a common example of a guy sent in by his doctor for bilateral cellulitis. Bilateral cellulitis (infection of the skin) is almost always impossible. Infectious cellulitis starts as a foci and spreads out in all directions. A marker can usually be used to identify the advancing lines of infection. This helps identify the lines of demarcation during daily inpatient hospital or clinic visits. Rarely does cellulitis start on both legs simultaneously. It does not start at one leg and magically jump through the air to the other leg. Patients often present as a direct admission from a clinic or small town emergency room saying, "The doctor sent me in for infection in my legs". My first filtered thoughts are often, "Of course they are. Bilateral cellulitis with acute exacerbation of you're my problem now".
Making a diagnosis of bilateral leg cellulitis is a pet peeve of mine. It is a tried and true method used to
punt
the patient to someone else. I see it far too often, especially when the patient is 400 pounds after gastric bypass and has pitting edema up to their thighs. They do not need to be admitted for IV antibiotics. In the absence of renal, cardio or pulmonary pathology or decompensation, to admit a patient for swollen legs is simply expensive. Hospitals are not magic buildings. Bilateral leg swelling can be treated with diuretics and support hose as an outpatient and followed through time.
What are the causes of this misdiagnosis? Most commonly, chronic stasis dermatitis is the answer. This is a chronic brownish to reddish discoloration of the skin due to chronic swelling and can mimic (but not really) cellulitis in both legs at the same time. As a hospitalist, I see this commonly associated with chronic heart failure (right and left side), chronic venous stasis due to insufficient venous valves in the legs, cor pulmonale with elevated right sided heart pressures due to morbid obesity. I also see chronically swollen legs as a consequence of smoker's lung, better known as COPD and emphysema. Patients who have been chronically ill and debilitated may have critically low albumin levels. This allows fluid to diffuse into tissues and patients often complain of bilateral swelling in their legs. This edema can cause the intense red discoloration on the shins, without sharp lines of demarcation, that is the hallmark of non infectious leg edema. Eating lots of protein won't help the situation short term. This issue can take many months to resolve.
In addition, chronic lymphedema can be confused with bilateral cellulitis. This is most often the case for physicians with poor physical exam skills. Patients can develop very large extremities with lymphedema. For those with little medical experience, seeing a case of unilateral or
bilateral lymphedema
can be shocking. Patients struggle with their diagnosis. Crappy doctors tell them they are infected. Great. We just gave our depressed patient with obese legs a heart attack thinking about the possibility of losing their legs to infection.
Lastly, deep venous thrombosis (DVT) of the legs can be confused with bilateral "cellulitis". Many doctors are hard wired not to miss DVT and pulmonary embolism. I think we order too many Doppler exams looking for clot. However, I feel if the diagnosis is being considered, testing is reasonable given the significant change in management if clot burden is discovered.
As a hospitalist, considering alternatives to a diagnosis of bacterial cellulitis in both legs simultaneously is our duty . The diagnosis is possible, but not nearly as common as some physicians want it to be. Most of the time, there is no reason a patient needs to be seeing a wound care surgeon to put aloe vera on their legs twice a week. It's fraud in my book. These patients are convinced they have infection because everyone they see says they do to out of ignorance or as a way to pass them on to another medical team. The problem here is swollen legs full of fluid from being overweight. Treatment is to pee the fluid out and avoid the traps that got them there. They must avoid salt and lose 200 pounds. There is no other way. This plan does not require hospitalization. They don't need to be started on IV antibiotics. On principle alone, I would discharge from the ER. Manage the swollen legs out of the hospital. It is not a hospitalization criteria. Nor does it require a whole team of health care professionals. And it's not cellulitis. Seriously. Make sure to check out all my
original medical humor ecards
.
"We are doctors. We are the few. We are the proud. we are the experts in making our problem someone else's problem to deal with."
"Your legs are fat, not swollen. And by fat, I don't mean P-H-A-T."
"Whomever said time heals all wounds has never met the wounds on my patients. They're nasty."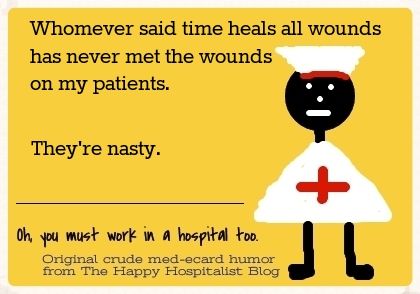 "You're calling it bilateral cellulitis? Nonsense!"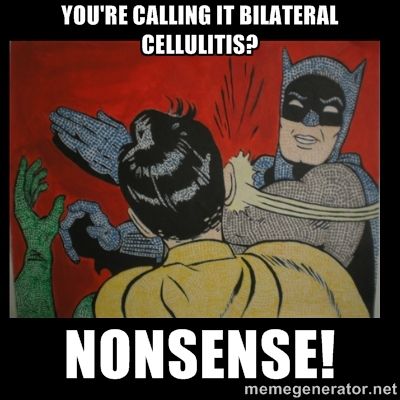 Some of this post is for entertainment purposes only and likely contains humor only understood by those in a healthcare profession. Read at your own risk.
Tweet